Hello to all my sweet friends! I know you've been wondering where I've been. We've all had sore throats and colds that have just been lingering and being passed around. Even Mark got in on the action. I had to take the 2 youngest kids in to the doctor today. They both had sinus infections and were started on antibiotics. So now if I can just get over it....I think if I'm not better tomorrow I'm going to have to get in with the doctor. All the extremely cold weather here didn't help either. With lows anywhere from 2-5 degrees at night and highs only in the teens...it's no wonder we've all been sick. We actually got some snow last week too. But it was too cold for Sam to get out and even enjoy it. He was sick and wouldn't have been able to anyway.
I've been spending time reading and doing some knitting....cuddled up under a quilt. I've been knitting something for my Mom. I think I just needed a break. Time to spend with the family and just trying to relax and recooperate. My nerves have been bothering me a lot too...The week before Christmas I found out that the little boy that I had asked prayer for (Andrew in my side-bar) had passed away. I took this really hard and cried a lot over hearing this. It was greatly on my mind even Christmas day. The thought that
Melanie
was spending her Christmas without him broke my heart. I had been spending a lot of time praying for him and she had wrote me and told me she was going to pray for Sam. This really touched me that she would do that....Sam's tourettes has been pretty bad again for the last couple of months. I haven't really posted much about it...it's been bothering me quite a bit too..It's a hard thing to see...Maybe you could remember Melanie in your prayers and maybe Sam too. It made him sad to hear that Andrew had passed...we had both been praying for him to be healed...
On a happier note....I want to wish my dear and sweet friend Eileen at
Umma's World
A Very Happy Birthday!! She is such a kind and loving person....a real life angel :) I feel so lucky to know her and to be her friend :)
To start the celebration.....some flowers!!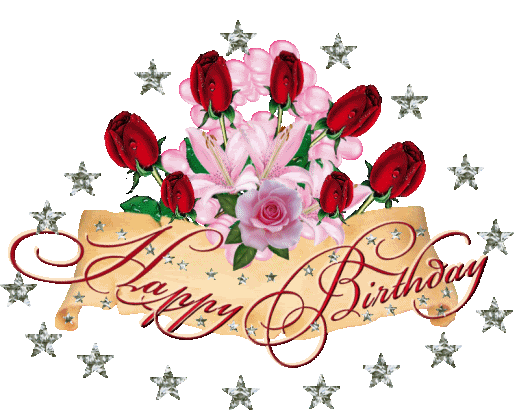 And a wish from the heart..........
And some pink cake............. or cupcakes if you prefer :)
and some penguins to share it with :) (this was from Sam :)
And lastly.... my favorite kitty choir singing in their most lovely voices....A Happy, Happy Birthday to dear, sweet and wonderful Eileen :) Have a beautiful day XXOO
With Love, Jerelene
PS.....I've missed everyone......I'll be back soon :)